Microsoft heeft op 24 september aangekondigd haar trainingsprogramma en certificering te wijzigen naar rol-gebaseerde training en certificering. Door middel van role-based training en certificering wordt aansluiting gezocht bij vaardigheden en competenties welke benodigd zijn in een specifieke functie(rol).
Tot 30 juni 2019 zal voor Azure een overgangsperiode gelden. Dit is de kortste weg naar de nieuwe certificeringen:
Micrososft Certified Azure Administrator (Associate)
An Azure Administrator is responsible for implementing, monitoring and maintaining Microsoft Azure Solutions, including major services related to compute, storage, network and security.20533: Implementing Micrososft Infrastructure Solutions
AZ-102 Overgangsexamen
Microsoft Certified Azure Developer (Associate)
Microsoft Azure is the cloud of modern business. Expand your Azure development skilss to meet future business needs as a Microsoft Certified Azure Developer Associate.20532: Developing Microsoft Azure Solutions
AZ-202 Overgangsexamen
Microsoft Certified Azure Architect (Expert)
Master the skills needed to design solutions that run on Azure. A Microsoft Azure solution architect must have expertise in compute, network, storage and security.20535: Architecting Microsoft Azure Solutions
AZ-302 Overgangsexamen
De examens zijn tot 31 december 2018 beschikbaar.
De overgangsexamens zijn tot uiterlijk 30 juni 2019 beschikbaar.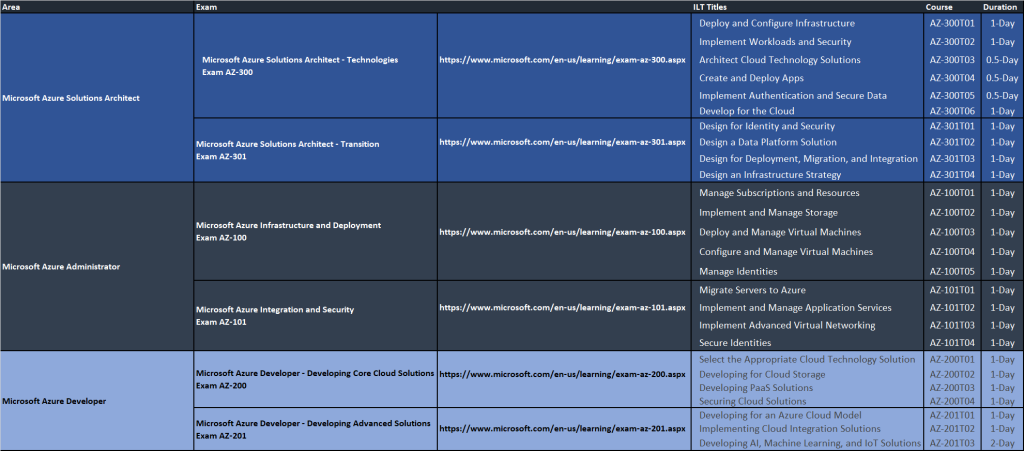 Microsoft Azure DevOps Solutions
Op 29 oktober heeft Microsoft een nieuwe examen – vooralsnog in beta – uitgebracht. Exam AZ-400, Microsoft Azure DevOps Solutions.
Dit examen is de realisering van de job rol Azure DevOps Engineer. Met het beschikbaar stellen van dit examen maakt Microsoft het certificeringspad voor de job role inzichtelijk:
of het certificaat Azure Administrator Associate
of het certificaat Azure Developer Associate
in combinatie met het behalen van Exam AZ-400
Wanneer zowel de certificaten 1 en 2 zijn behaald en examen AZ-400, dan resulteert dit in de status Azure DevOps Engineer EXPERT.
Voor meer informatie over onze Microsoft Azure Trainingen of Examens kijk dan even hier.